Vegan barbecue Pizza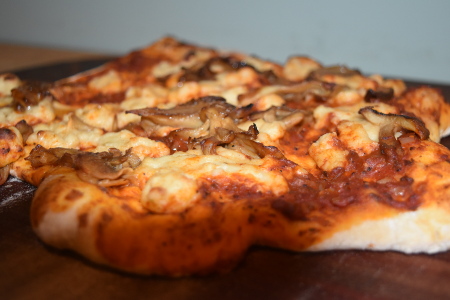 Vegan barbecue pizza really is a winner. The crunchy crust, rich tomato and gooey cheese form a dream combination that's hard to beat, and the smokiness of the barbecue just elevates those delicious flavours.
However, making a vegan barbecue pizza has its challenges, as I'm sure a lot of you may know. Or rather one large challenge: cheese. I have looked far and wide, made cashew cheese after cashew cheese and sampled all brands of vegan cheese that I can find, and still absolutely nothing came close to replacing dairy cheese. It's sad, but it's true.
Saying that, mozzarella is a different kettle of fish to cheddar or cheeses destined for the cheeseboard. What we really need from a cheese on pizza is a little bit of stretchiness, a little bit of gooeyness and a mild flavour. Funnily enough, mild *cough*BLAND*cough* flavour is something that vegan cheese does quite well.
So, what have we found? We've found that Zizzi's got it right. Or at least as close to right as you can get with vegan cheese. They use Mozzarisella on their pizzas, and to me anyway, that does the job. After over-ordering on pizza when out for a meal with my mum, I brought back some of Zizzi's vegan pizza for my friends and nobody complained – a couple of them even said that it tasted better than 'normal' pizza!
However, after seeing the price of Mozzarisella online (plus extortionate delivery costs!) I decided that making my own vegan mozzarella was the best way forward. I'm not a fan of buying ready-made foods when I can make them myself, so I've included my recipe for vegan mozzarella in the majority of my pizza recipes; sometimes, we've decided to leave out the cheese altogether, because with some of the beautiful flavours we're using there just isn't a need for cheese. Nonetheless, I've managed to create a stretchy, gooey vegan cheese that does the job well, and is easy to make a lot more flavourful than regular mozzarella.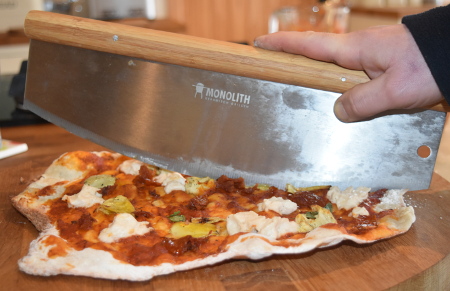 So here are our homemade vegan barbecue pizza recipes, and see below for a couple of essential hints and tips for cooking pizza on a barbecue.

Vegan Barbecue Pizza Recipes
Using the barbecue as a pizza oven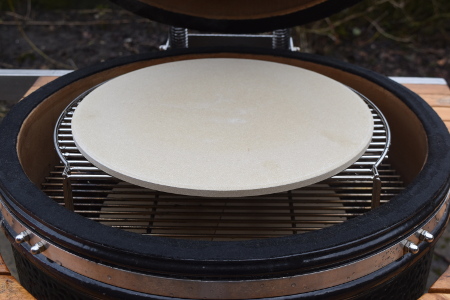 It's important to remember that cooking a pizza on an open grill just isn't going to work – you need a barbecue with a lid, such as a ceramic barbecue, to create that scorching hot oven environment. You also need heat deflector stones to place above your fire and below the grill and a pizza stone to put on top of your second tier grill.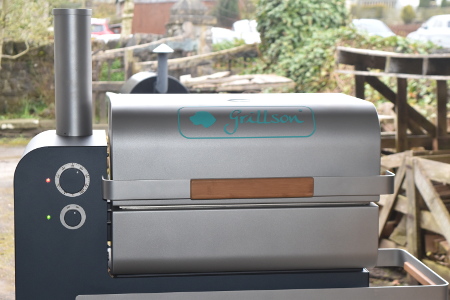 Saying that, we have achieved our best pizza results on a Grillson barbecue, which uses woodchips to generate heat and a simple dial to alter the temperature – that means no stress trying to get the barbecue as hot as you need it! No heat deflector stones are needed; you just pop the pizza stone on top. This really is a cracking piece of kit for stress-free barbecue cooking.
It's massively important to get that temperature right up to around 350°C (662°C) so that the pizza cooks quickly and so that the sauce doesn't have time to dry out. In order to do this, make sure that if you're using a charcoal barbecue you use a fresh bag of charcoal; the dregs in the bottom just won't do the trick. It's also essential that you clean out the bottom of your barbecue before lighting it – the airways must be clear to allow for optimum airflow that allows the fire to really heat up.
Getting the base right
The first essential part of making a cracking vegan barbecue pizza is getting the base right. I've found that using a basic recipe that's almost identical to my flatbread dough recipe works a treat. The other thing to worry about it thickness – make the base too thick and you're likely to get an undercooked doughy mouthful, make it too thin and it will be crispy and burnt with no bread like qualities. I opt for a relatively thin base (because that's just how I like it!) but if you prefer a thicker pizza base you're free to alter the thickness I suggest to however you like it.
Getting the sauce right
Whatever base sauce you opt for, the main obstacle to overcome is the consistency and concentration. If the sauce is too watery, you're going to end up with a sad and soggy pizza. However, if the sauce is too thick and concentrated, you're going to get a massive and potentially overpowering hit of flavour alongside a dried out pizza. Not fun.
Getting the cooking right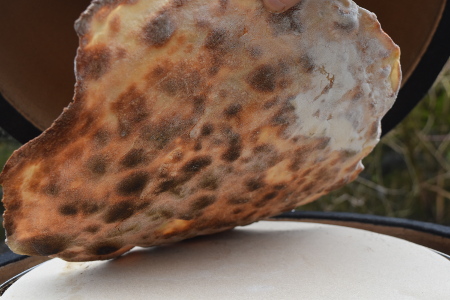 If you're cooking your pizza at a good, hot temperature, it shouldn't take long to cook (around 10 minutes). You will know when your pizza is ready by looking at the base – it should have a brown leopard skin appearance.
I hope you feel suitably prepped to make vegan barbecue pizza! Enjoy!
---