Dutch oven recipes

All dutch oven recipes work really well on the barbecue, which I guess should come as no surprise to me given how highly revered these cast iron cooking pots are due to their flexibility and durability for open fire cooking.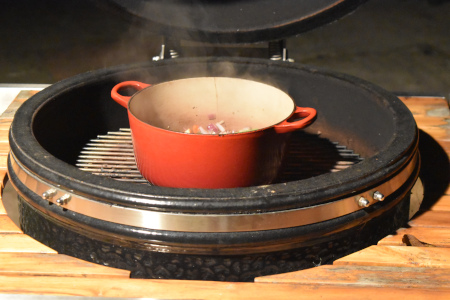 I'm English and in England we call one of these cast iron pots a casserole pan but my research leads me to believe that in the world of barbecue and in the USA these pans are referred to a Dutch Ovens.
There's no doubt that these pans started out their lives in the Netherlands where they are referred to as "braadpan" or breadpan but the term Dutch Oven was probably propogated by the early European settlers who took these pots with them when they colonised America.
It's no surprise that the term still survives today and it may just be because I'm a little closer to the barbecue fraternity but I think it's fair to say that I hear the term cropping up more frequently here in England too.
So call them casserole recipes if you want but I'm going to call mine dutch oven recipes.
Oh, and did I mention that the South Africans have a similar cast iron cooking pot called a "potjie"?!

cooking methods
Whatever you call them, these cast iron cooking pots come with a variety of features which determine the best method of cooking.
For my sins, mine is simply and old Le Creuset pot from my parents kitchen that has been dropped and chipped. Not very elegant but when you seat it on the cooking grate of my Monolith ceramic grill it works perfectly.
The potje usually features an arched handle over the top so that it can be hung over the braai or open fire much like a campfire cooking set up with tripod over.
Then you get the Dutch Ovens with stubby legs and a flat lid with a lip. This design allows the pot to sit directly over the coals with the legs just providing a lift. The flat lid with lip allows you to put coals directly on top of the pot too with the lip there to prevent the coals from dropping into your stew.
If you're buying new then I'd probably go for one with a flat lid and lip but because I use the barbecue rather than a campfire I don't think that I need the stubby legs.

Here Are My Dutch Oven Recipes
Dahl - that Classic Indian lentil stew, sweet and mildly spiced yet so simple to prepare
Don't worry, there's more to come!