Vegan Pesto Pizza
This vegan pesto pizza is a true summertime winner. With the fresh, fragrant pesto and sweet and sharp tomatoes, it's the perfect evening treat on a warm, sunny day. It's also fantastic as a change from using a basic tomato sauce on the pizza base – using pesto makes the pizza feel lighter and adds another dimension to the classic pizza flavour.
I've adapted my pesto recipe from Minimalist Baker's pesto recipe – it's nutty, creamy and zingy; going perfectly with the vegan mozzarella and the fresh tomatoes.
You will need a barbecue with a pizza stone to cook these vegan pesto pizzas (or of course a pizza oven if you have one!). I use a Grillson pellet grill, because at the turn of a dial it can achieve temperatures of up to 350°C (662°F); I find it a lot more difficult to get our ceramic barbecues to sustain these high temperatures.

Makes 3 pizzas. Prep time: 1 hour 15 minutes. Cooking time: 30 minutes (10 minutes per pizza).
Ingredients
For the dough:
500g (4 cups) strong white bread flour
2 x 7g packets (1 tbsp) of dry yeast
300ml (1¼ cups) warm water
1 heaped tbsp sugar
½ tbsp fine salt
For the pesto:
100g (1 cup packed) basil leaves and small stems
3 tbsp pine nuts (or other nuts, such as hazelnuts or walnuts)
3 cloves garlic, peeled
1 ½ tbsp lemon juice
3 tbsp nutritional yeast
3 tbsp olive oil (I prefer light olive oil, as extra virgin can make the pesto slightly bitter)
3 tbsp water
½ tsp salt
 For the vegan mozzarella:
130g (1 cup) whole raw cashews
720ml (3 cups) water
6 tbsp tapioca starch
2 tbsp nutritional yeast
1 tbsp lemon juice
1½ tsp salt
1 tsp garlic powder
For the topping:
300g (2 cups) cherry tomatoes, halved
A few basil leaves (optional)
A drizzle of extra virgin olive oil (optional)
A sprinkling of salt (optional)
Allergens: gluten (strong white bread flour), nuts (pine nuts – try swapping for seeds such as sunflower seeds to make a nut-free pesto. Cashews – try making a cheesy sauce using roots vegetables instead of cashews to make the mozzarella nut-free).
Making the dough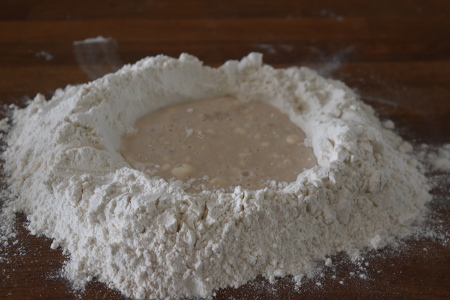 Pour the flour out onto a clean work surface and create a well in the middle. Make sure the walls of the flour are consistent (with no gaps!) all the way around the well so that no water can seep out.
Gently pour about half of the warm water into the well, then add in the yeast and sugar - give this a quick mix together with a fork before adding the salt and mixing a little more.
Use the fork to gently push bits of flour into the well and mix it into the warm water mixture. Make sure that you maintain the flour walls to stop water escaping!
Once the mixture in the middle has thickened up to a gloopy consistency, add the remaining water bit by bit while more confidently combining it with the flour to thicken the dough.
After you've added all the water, use your hands to push in the remaining flour and combine until you have a not-too-sticky ball of dough. Of course, if the dough is really sticky then go ahead and add more flour, whereas if the dough feels dry and isn't sticking together well, add a touch more water.
Knead the dough for a good few minutes (about 5 should do), until it's stretchy and smooth. You're doing it right if you're working up a sweat!
Pop the ball of dough into a large bowl and cover with cling film, before putting it in a warm place to prove. I use the plate warming drawer of my oven which seems to work well enough, as long as you keep it on a low temperature. Leave it for 30-45 minutes, until doubled in size.
Making the pesto
Simply put all of the ingredients into a food processor or high speed blender and blitz! Taste the pesto, and add more of any ingredient to your taste: if it's too sharp, try adding some more nuts; if you want a more intense overall flavour, add a little more salt and if you want a more sharp or tangy flavour, add some more garlic or lemon juice.
The pesto should also be a spreadable consistency – if it's too solid, add a little more olive oil or water. If it's too runny, add some more of the solid ingredients.
Making the vegan Mozzarella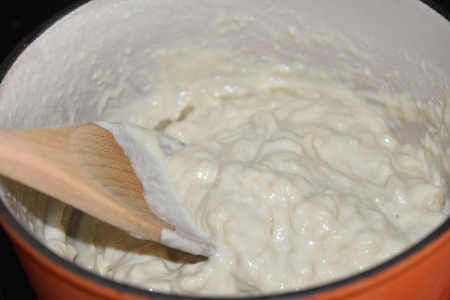 Begin by putting your cashews into a microwavable container, covering them with 360ml (1½ cup) water and microwaving them for 10-15 minutes to soften them.
Pour the cashews and any remaining water that they were boiled in into a blender or food processor, alongside the remaining 360ml (1½ cup) water, tapioca starch, nutritional yeast, lemon juice, salt and garlic powder. Blend until smooth.
Pour the mixture into a small to medium saucepan, and turn it up to a medium heat. Pour the mixture into the pan and stir continuously, scraping the mixture off the sides to stop it sticking – you will soon notice the mixture starting to clump, and after about 5-10 minutes you'll end up with a big lumpy blob (I don't that doesn't sound appetising but trust me it's tasty) of gooey cashew cheese in the middle of your saucepan. When you reach this stage, turn off the heat. I prefer to leave the cheese less firm, as this makes it easier to spread across your vegan pesto pizza.
Putting your vegan pesto pizza together
It's now time to light the barbecue. You really need to get in up to a high temperature, about 350°C (662°F), so be patient and make sure that your barbecue (with pizza stone!) has properly heated up before cooking.
Take the dough out of its warm place (if you haven't already) and put it onto a floured work surface. Knock the air out of it by bashing it around a bit, then split the dough into three pieces of equal size, one for each pizza. Roll out the portion of dough you've taken, making an oval shape. It doesn't have to be perfectly round – I personally think that an asymmetrical pizza is more endearing than a perfectly circular one! I prefer to roll to a thickness of about 0.25cm, (1 tenth of an inch), but you can change that to suit your preferences.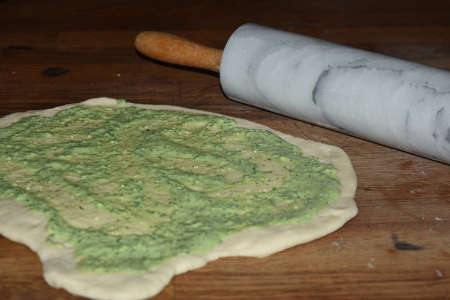 Take a few tablespoons of your pesto and spread it around you pizza with the back of a soon. Make sure you get an even coverage all over. Don't be shy, get plenty of flavoursome pesto on there – if you layer it too thinly it will completely dry up on the barbecue.
Spread a few tablespoons of vegan mozzarella over your pizza, alongside plenty of halves of cherry tomatoes. Sprinkle a little bit of extra salt or drizzle some extra olive oil over the pizza if you wish.
Using a pizza peel if you have one, pop one pizza on the pizza stone on your barbecue and leave for around 10 minutes; you will need longer if your pizza is thicker or your barbecue is not quite up to temperature. When a leopard skin pattern becomes visible on the underside of the dough, your vegan pesto pizza is ready!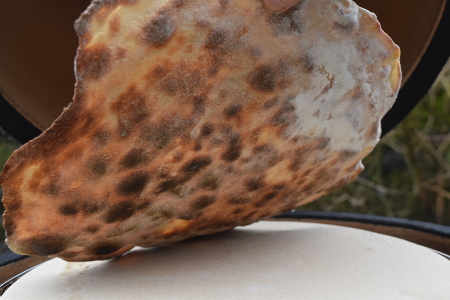 Serve hot off the barbecue and garnish with basil leaves if you wish. Enjoy!
---
Return to vegan barbecue pizza