The Best Grill For Vegans

The best grill for vegans is definately the Monolith Classic ceramic kamado because it offers an unrivalled variety of cooking styles. I can roast, bake, make pizza or grill on the giant fireplate. Add the wok and I can make stir fry recipes from all over the world.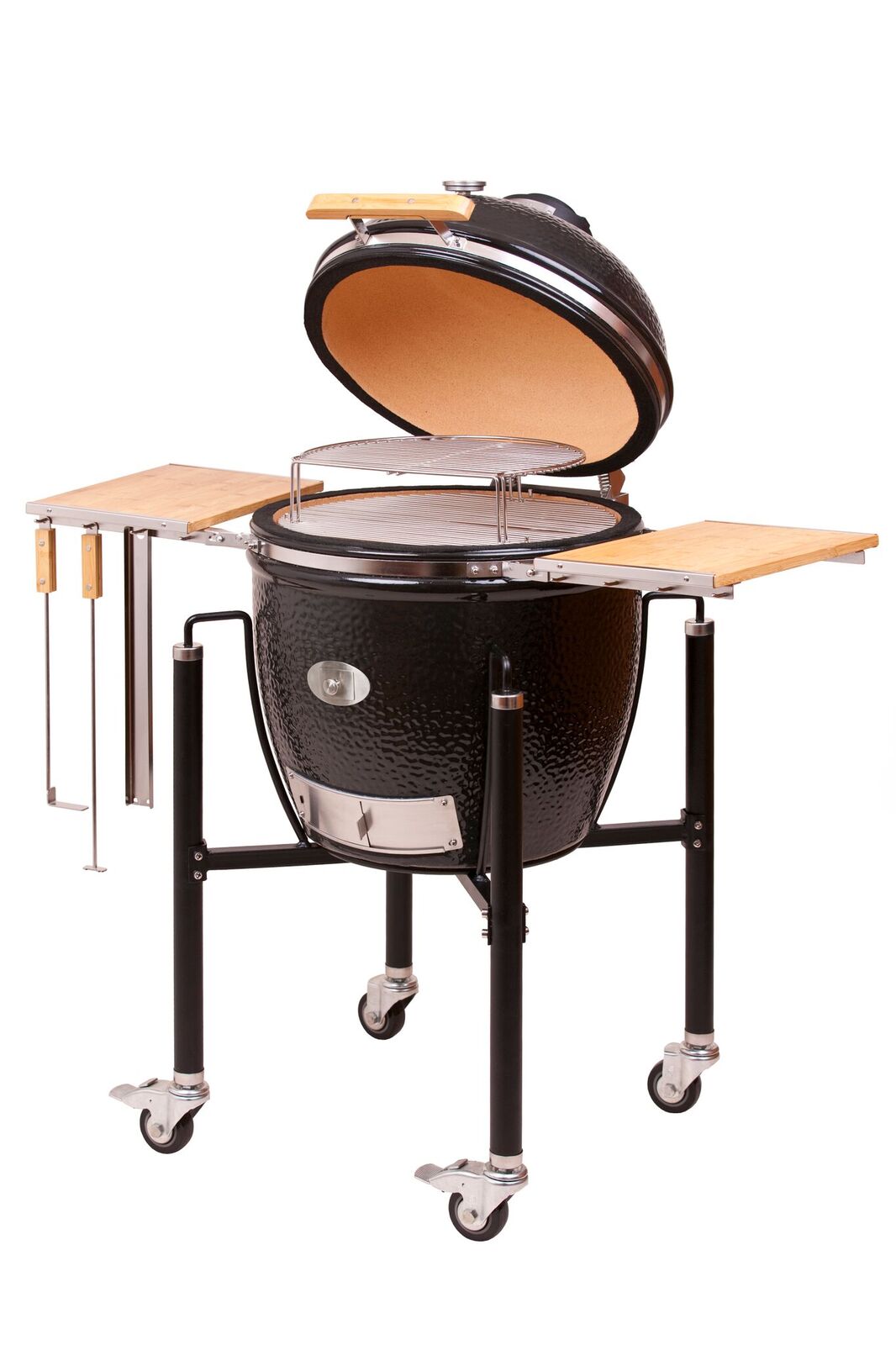 It probably hasn't escaped your attention that the vast majority of recipes that I've written for this site have been cooked on the Monolith ceramic grill.
I have a gas grill and a wood pellet grill too and both do get used occasionally but my Monolith ceramic grill is always there and ready. It's so easy to fire up, the charcoal fire aroma is so relaxing and so it's rapidly become my default go to grill.   

Vegan barbecue cookery is very different from your average meat eaters barbecue in that when cooking with plants I don't have to worry about
Making sure that my meat is cooked and therefore safe to eat
Browning meat to add flavour
Adding smoke to give for flavour
My vegan barbecue cookery is all about
Creative combinations of herbs and spices
Fresh flavours with a hint of the open fire
Enjoying cooking and entertaining outdoors
To that end I want a barbecue that gives me the greatest versatility for different styles of cooking and the best quality results in terms of flavour, texture and juiciness...my Monolith ceramic grill delivers in every way.

Using an open grill is really restricting because you basically get the heat just from one side and you're limited to cooking thin strips of veggies that are really easy to burn... and let's face it, burnt veggies don't taste all that great.
That takes us to using a barbecue grill that has a lid. This style of grill suddenly opens up a whole new world of opportunity because as soon as I close the lid, I've just transformed my grill into an oven.
But let's be fair, there are many grills out there with lids...

What makes a ceramic The best grill for vegans?

Quite simply a ceramic grill is super insulated and that means that once I've heated it up to the temperature that I want, (I do this by varying the airflow through the barbecue) I can pretty much close off the airflow and maintain a constant temperature.
Now all the big ceramic grill manufacturers like Monolith, Kamado Joe and Big Green Egg will tell you that this means that grills hold the temperature better than any other grill irrespective of the outside temperature are that they are supremely economic with fuel. And they're right on both counts.
But what sets my ceramic grill apart is that with the lid closed all the moisture in my veggies stays right in the cooking (it's like cooking on a Aga) and the charcoal fire just gives a very subtle "wood fired" flavour to my cooking. Don't get me wrong, it's not a smoky flavour (unless I add wood chips to the fire), it's just that distictive aroma that you only get by cooking on an open fire.

why monolith?
There are a lot of ceramic grills on the market theses days and not all are equal in terms of price, quality and versatility. It was scrutinising these three area in detail that led me to choose Monolith over the other ceramic grills out there.
Firstly, not all ceramics are the same and clearly the lower cost brands feature the poorer quality ceramic. I read as many reviews as I could find and listened to what was being said in the Facebook groups and it became clear that the cheaper ceramic compositions are susceptible to cracks an breaks.
The ceramic quality is also refelected in the warranties offered; only Monolith, Kamado Joe, Big Green Egg and Primo offer a lifetime warranty on the ceramic, the other manufacturers seem to offer 2 or 3 years at best.
So having decided that I wanted to go for the better quality ceramic and make a once in a lifetime purchase, how did I differentiate between the top four brands?

Versatility is key for vegan barbecue cooking so the ceramic grill brand the most diverse and flexible range of accessories is critical. Both Monolith and Big Green Egg offer a wide range for accessories although the Monolith range is more diverse with more practical accessories (such as the wok & stand) whereas I found some of the Big Green Egg accessories a little gimicky. Monolith also offers "half moon" accessories which give you the option to cook in two different styles (one on each side of the grill) at the same time.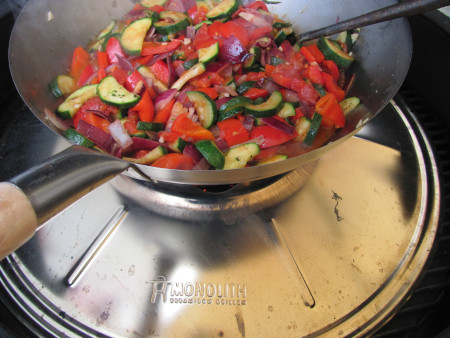 The wok and stand highlight Monolith as the best grill for vegans
The last area that I looked at was value for money...and this blew Big Green Egg right out of the water! In fact the two top brands offering the best value for money are Monolith and Kamado Joe with the price for the equivalent Big Green Egg coming in about 50% higher. The Kamado Joe does have some interesting features such as a handy ash pan which makes emptying the firebox a bit easier and a fancy air lift hinge but the plastic shelves look cheap and nasty and the 2nd tier grill grate isn't included as standard.
Monolith finish their grill off with rust free stainless steel tension bands which are definitely worth it and they also feature a smoke chip feeder but to be fair, I don't really feel the need to add smoky flavour to vegan food.

So my conclusion is that having taken all these things into account, the best grill for vegans is the Monolith Kamado ceramic grill. I recognise that not everyone can afford a ceramic grill but I urge you take some time and save up, I've had mine now for three years and it looks and works as good today as it did the day that I got it out of the box.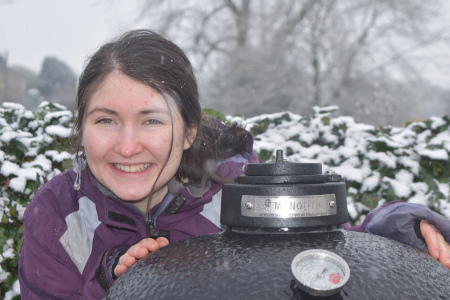 I love my Monolith grill all year round!
Most interestingly though, Monolith are releasing a new entry level Classic grill in 2019 the features the same top quality ceramic, includes the same lifetime warranty  but strips away some of the bells and whistles like the smoke chip feeder. Given that I don't really use my smoke chip feeder this new entry lelev Monolith looks like it could very quickly become the default best grill for vegans for 2019 and many years to come.
More Information
If you'd like to know more about Monolith ceramic grills and where to buy one, here are the important websites to know about:
Monolith European Website
Que Fresco Monolith Distributor For UK & Ireland