Grilled veggie Burgers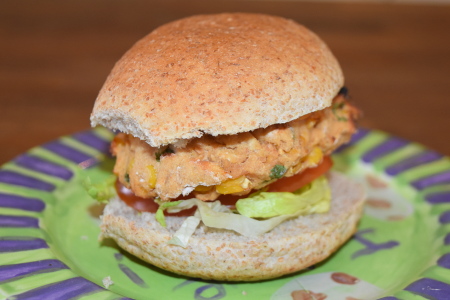 Grilled veggie burgers are the royalty of the vegan barbecue. As the 'go-to' veggie option for family barbecues as well as a tea time favourite, we need to make sure that this iconic foodstuff is given the love and attention that it deserves. Making a cracking veggie patty isn't always easy; all too often we've experienced dried out, flavourless burgers, or ones that have just fallen straight through the grates of the barbecue! Below are a few of our favourite recipes, alongside a few tips to help you make a truly delicious grilled veggie burger.

The grilled veggie burger recipes
Crunchy Walnut and Almond Burgers
Easy Butter Bean and Sweetcorn Burgers
The texture
Pulse, don't blitz.
It's all too easy to reduce beans and veggies to a mushy mess by putting everything in the food processor and blending the hell out of it, but through pulsing the blender you are more in control of consistency.
Depending on what ingredients you use, how long you blend them for changes – nuts, for example, need blending for longer, whereas softer ingredients such as chickpeas and beans only need to be pulsed for a few seconds. Of course, personal preference also comes into play here; if you want a softer, smoother texture you can blend the ingredients for longer, whereas a  few pulses is all that's needed if you want to enjoy the firmer texture of larger bean chunks, or the crunch of pieces of nuts.
A thicker consistency will also help you when shaping the patties, as pulsing should result in a less sticky burger mixture. That said, the sticky patty problem can be solved by adding extra flour, and by shaping the patties onto a well-floured board.
the Binding
From all of the ingredients we've trialled to bind our burgers together, each time the same ingredient comes up trumps: flour. Gluten free flour also works well as a binder, so coeliacs need not worry! Only a small amount (20-25g per burger) is needed to keep the mixture together, just make sure that you mix it well into the burger.
Forming the veggie patty
Firstly, take a large lump of the burger mixture into your hands and squeeze it tightly into a ball. When you release your hands, if the burger is a good consistency, the ball should stay stuck together and your hands should be able to peel off reasonably easily.
If you find that your hands are sticking to the ball of mixture, then add a little more flour until you can peel your hands away more easily.
If the ball is falling apart, then add a little more moisture to your mixture. Do this either by adding a splash of water, or alternatively a bit of lemon juice, soy sauce, or any other liquid used in the recipe if you fancy adding a little more tang to your burger.
Once you have a ball that is sticking together, but not to your hands too much, then apply pressure to either side of the ball to shape it into a round patty. Try to ensure that the patty is evenly thick throughout so that it cooks evenly on every side.
Cooking the Grilled veggie burgers
It's all too easy to burn your burgers on the outside while they're completely raw on the inside! Make sure that your barbecue is hot enough to heat the burger through, but not so hot that it burns the burger within two minutes!
We recommend a temperature of around 180°C (356°F) if cooking on a barbecue with a lid. If you're cooking on an open grill, make sure that you're not cooking on flames – they will only burn the burger. Be patient; allow the flames to settle and the charcoal to warm through before cooking your burger.
---