dutch oven dahl

My dutch oven dahl recipe is the real McCoy and right from the heart of Kerala in India. My inspiration is from a chef who I met at the Dewalokam homestay and he taught me the foundation of this recipe.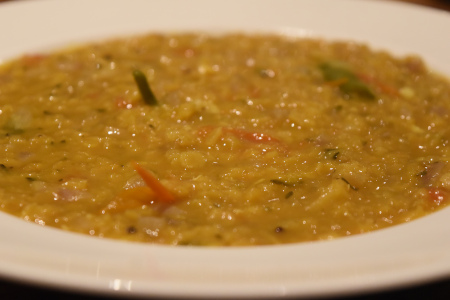 Sweetness from the addition of fried onion is the first taste sensation and then in comes a hint of spice and heat at the back. Not only does it taste great, it's actually really easy to do.
All you do is light your grill and place the cooking pot directly over the heat. Once the base mix has been prepared, simply add lentils, water, then close the lid and let it stew away for 45 minutes.

I love dahl but if there's one thing that I hate when cooking, it's when it's thickening up and starts to bubble and splash all over the stove top. Now that I do it on the barbecue there's nothing to worry about!
This dutch oven dahl recipe makes enough for 2 as a main meal and 6 as a side dish to another curry.

ingredients For dutch oven dahl

150g red lentils
1 large onion chopped
1 teaspoon finely chopped ginger
1 teaspoon finely chopped garlic (about 3 cloves)
1 teaspoon Kasuri Methi (chopped dreid methi leaves)
2 large fresh tomatoes chopped

3 green chillies cut into chunks
1 teaspoon turmeric
2 teaspoons coconut oil
800ml water
½ teaspoon salt
Method
Light your grill and allow a small fire to build. In my Monolith ceramic grill this means starting with the lid open and leaving the bottom vent open approx 1cm (½")

Using a sieve, rinse the lentils in water and put to one side for the moment.

Place the dutch oven over the fire, spoon in the cocunut oil and allow it to melt. Once melted add the chopped onioin, garlic and ginger and sweat off for approx 5 minutes until the onions have softened.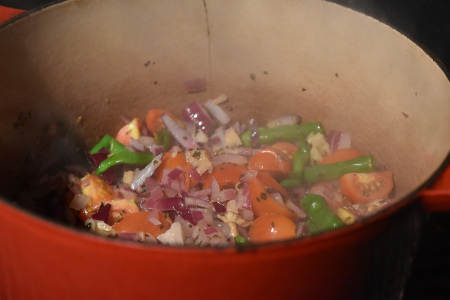 Now add the kasuri methi and fry for another couple of mnutes.
Next add the chopped tomatoes, chillies and the turmeric powder. Give the mix a good stir and then add the lentils and water.
Close the lid on the barbecue (no lid on the dutch oven) and allow the grill to run at about 150°C (300°F) for 45 minutes to one hour. It will gradually reduce whilst cooking and youcan remove it from the heat when you reach the consistency that you like. Lift the lid occasionally to sit your dahl.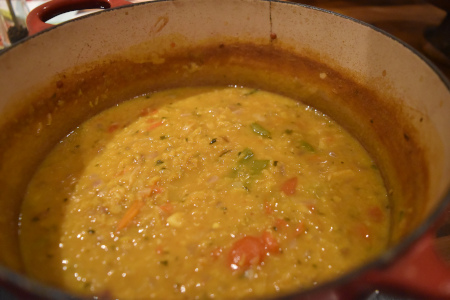 I'm not a but rice eater so I like to serve my dahl with homemade flatbreads.